Facilities
General Library
All the institutions house their own centrally air-conditioned libraries, neatly stacked with arrays of technical and non-technical books covering plethora of subjects and dissertations. The libraries provide excellent environment for study with convenient access to printed and electronic resources. The library services are fully automated by using standard library software package. Circulation is fully computerized and circulation is through barcode systems. For easy accessing of the books, Online Public Access Catalogue (OPAC) is provided. The libraries are housed in a carpet are of more than 7000 sq.ft. each with convenient seating capacity.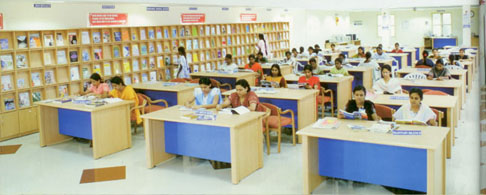 Subscribes reputed national/international technical/non technical journals, magazines.
Journals, magazines and periodicals from international organizations such as IEEE ISTE, CSI, ACM, ASME societies are subscribed in the Engineering college libraries.
Stack of technical and non technical electronic resources like CD's, audio cassettes, video cassettes and floppy discs are available.
Digital library with 2Mbps internet connectivity serves as a boon to students to gain easy access to e-resources. We have enrolled ourselves as member of Developing Library Network(DELNET), New Delhi; British Council Library Online, Chennai; Questia Online Library and IEEE Online.
Our infrastructure includes:


Current periodicals section